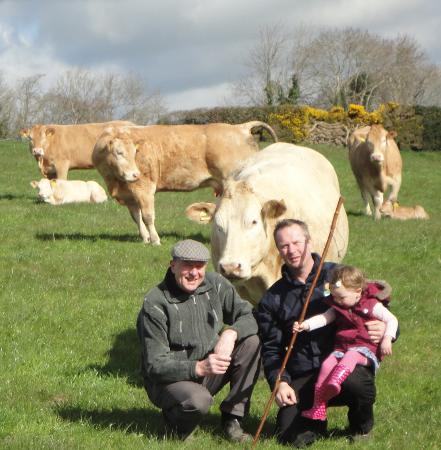 At Ballygowan Blondes we recognise the benefits of showing in promoting the breed. However we are not a show herd and do not have the traditional large framed Blondes. We breed blondes to produce terminal and maternal sires for both the pedigree and commercial markets. The Ballygowan Blonde Herd was awarded the best small herd of Blondes in NI in 2014 and again the next time the competition was run in 2017. In 2014 we went on to achieve reserve small herd in the UK finals.
Heifers are regularly showed, a week at Balmoral show puts manners into them which stands them in good stead to be handled at any stage in the future.

We occasionally have bulls and heifers for sale - see below in the For Sale section. We only sell animals for breeding we are prepared to breed with ourselves. If they don't make our standards, you wont get a chance to buy them as they go to beef.
About Us
Ballygowan Pedigree Blonde herd was founded in 1979 by Robert and Sandra Gibson with the purchase of two maiden heifers from Southern Ireland. Tipperary Olive and Barrettstown Olive, they went on to breed many of the foundation bloodlines in Ballygowan progeny today.
We are a family run farm and have built up the herd slowly. It is a closed herd for health status reasons, apart from the careful selection of herd sires.
These include: Homebred Ballygowan Viceroy, a heifers calf weighing 704Kg at 400 days out of a Sandbrook cow.
Classic Caesar, sired by Broomfield Taurus and then Carn Gordon, a Fortescue Augustus son weighing 730Kg at 400 days.
Ballygrainey Jack (Ballygowan Nobles Sire) by Whistley Dollar, Blackwater Nebus by Febus, Glenvale Tarzan by Droit Ocean. Ballygowan Rambo, a Nebus son, then Budore Donald, Classic Intel by Utah and the latest addition being Ark Maverick (By Dollar, pictured below aged 17 months).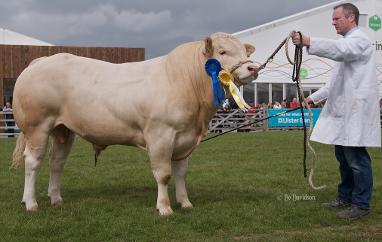 Ballygowan Blonde News
Ballygowan Ohio scooped first place in his class at Balmoral and went on to left the Reserve Junior Championship. Ohio is the first bull calf by Ark Maverick and out of a great Landais sired milky cow, he was just 12 months old at the time of judging giving up to 5 months to the oldest in the class. Ohio will be offered for sale after being exhibited at a few more local shows throughout the summer. Please get in touch for more information.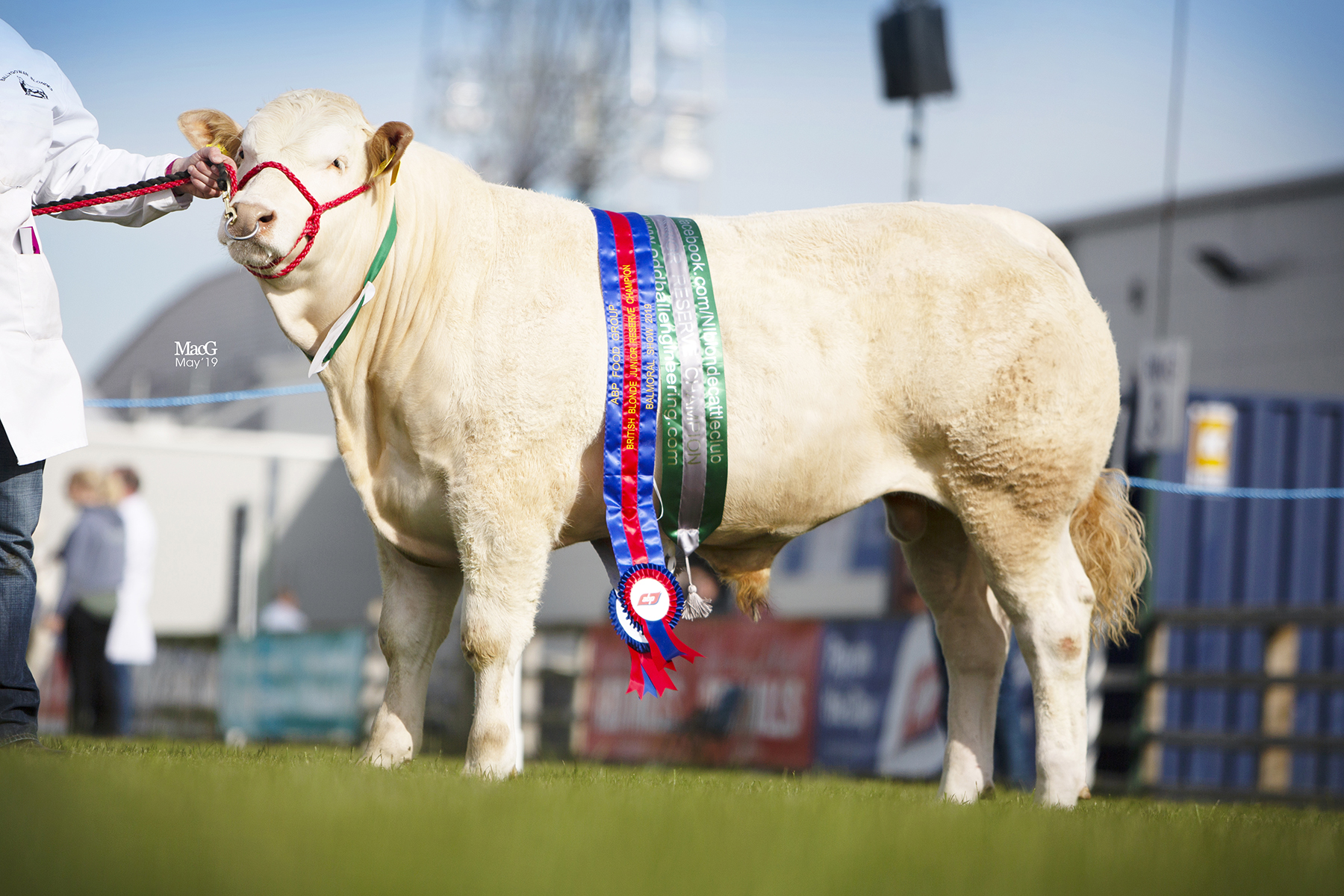 Breeding and farm management at Ballygowan
At Ballygowan we believe in maximum production from forage, for this reason we select easy fleshing genetics to breed cattle that do not need concentrates. We had been Ai'ing heifers to easy calving breeds such as Wagyu or Speckle Park but Ark Maverick has proved exceptionally easy calving and all non related heifers are being served by him. Only easy fleshing heifers are retained for breeding that come from fertile cows - production in the form of food conversion and reproduction are two traits we value highly.

Animal Health
We have been a member of the AFBI Cattle Health Scheme for six years and accredited free of Lepto, Johnes (7 years clear - risk level 1) and Vaccinated Monitored Free (VMF) of both BVD and IBR. We have also screened clear of Neospora too.
We deem our biggest risks to be the virus's IBR and BVD and have established a rigorous vaccination programme to establish immunity in the herd, we use the IBR marker live vaccine to ensure clarity of results. We are happy to test any animal at any time; every animal in the herd has a negative test for Johnes, lepto antibodies, IBR antibodies and BVD virus. To quote AFBI,
'
the current herd status you have achieved is exceptionally enviable, and a credit to your hard work and effort'.
Do not be fooled
'
AFBI continually find that some breeders think the fact that they are testing for something means they are immediately Accredited. This could not be farther from the truth.'
Stock for sale
We have just sold Ballygowan Nexen - See photos directly below - to a commercial farmer in Co.Tyrone.
Classic Grace was sold safely incalf to Maverick to Ollie Naughton of Stonelea Blondes.
The last two Intel sired bulls have been sold locally for commercial & pedigree breeding to Gareth Sanchez of Ballynahinch and Ciaran Murray.
Select females are also for sale, including incalf cows with calves at foot & incalf heifers.
Ohio will be offered for sale during the summer months.
Semen and Embryos for sale
Export grade semen off stock bull Budore Donald is now sold out from Ai services.

Semen for use in Northern Ireland (farm collection) can be purchased direct from David on 07714402555.
Limited number of Whistley Dollar embryos are available from selected Dams. Retained full blood females can be seen.
Ballygowan Blondes, Blonde cattle, blonde cows, blonde bulls, Northern Ireland, Blondes for sale, Blondes in Ireland